Villa in Porto Heli
Location: Greece, Porto Heli
Description
Luxury villa will offer you a unique location (near a pine forest and a private beach) and complete privacy!
The villa has 700 square meters. m of living space, 4 levels, an elevator (on each floor), excellent furniture, 6 bedrooms with bathrooms, a guest apartment with 2 bedrooms, a living room with a fireplace and a kitchen, and a guest studio (50 sq. m.) with a small kitchen and a veranda.
The studio is located at the top of the villa and offers your guests an unforgettable view of the sea. At the entrance to the villa there is a huge living room (225 sq m), a dining room and a kitchen. At the same level you will find a garden with lawns, a pool and terraces with barbecue. The corridor from the main hall will lead you to the office, laundry room and the wing for the servant. All living rooms and the master bedroom are fully air-conditioned by one system, while the other bedrooms have separate air-conditioners.
Above the floor are the master bedroom and 4 other bedrooms with private bathrooms (floor area of ​​150 sq. m.). The veranda of the master bedroom has views of the bay and garden. An even higher level is an independent guest studio (50 sq. m.). On the ground floor of the villa you will find a wine cellar and a living room with a bar and billiards – a real men's club. There is a separate 2-bedroom apartment next to the games room.
A great holiday home for your whole family or group of friends! Towards a private beach you will find a wonderful garden with trees and beautiful fragrant flowers. Right in front of the beach there is a summer gazibo (covered terrace) with a dining table and armchairs, where you can have lunch or dinner, regardless of air temperature. Candlelight dinner by the private beach … what could be more romantic? This private residence will offer you and your friends a truly exclusive luxury vacation in one of the most prestigious places in the world!
The villa is located in a magnificent place called the Greek Riviera, where famous mega-magnates spend their summer holidays! Near the Spetses Islands (7 min by speed boat) and Khidra (15 min). Wonderful beaches with crystal clear and calm waters… beautiful weather, summer breeze – all this is the hallmark of this magnificent place… There are famous bars, restaurants and harbors for people with elegant taste and lovers of serious yachting! A truly prestigious vacation spot where your famous neighbors can be Sean Connery, Livanos, Mavroleon Gulandris and the nearby Spetsopula island belongs to the legendary family of shipowner magnate Niarchos! Porto Heli Harbor offers the perfect haven for your yacht! The villa is located 3 km from Porto Heli, in a place called Porto Heli Island – a peninsula with prestigious villas and private beaches. 2.5 hours drive from Athens (3 hours drive or 25 minutes by helicopter from Athens airport). Relax in style!!!
Details:
Kitchen: fully equipped.
Bathrooms: 8.
Maximum number of guests: 14.
Bedrooms: 9 bedrooms (including 6 main bedrooms + studios + 2 bedrooms in separate apartments).
Similar Properties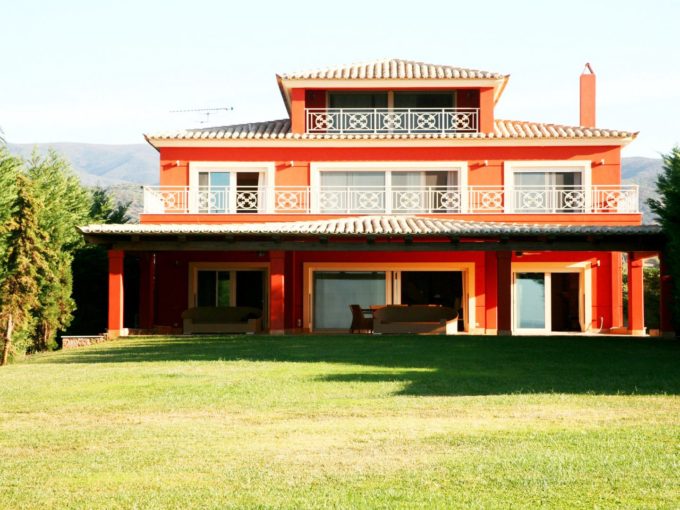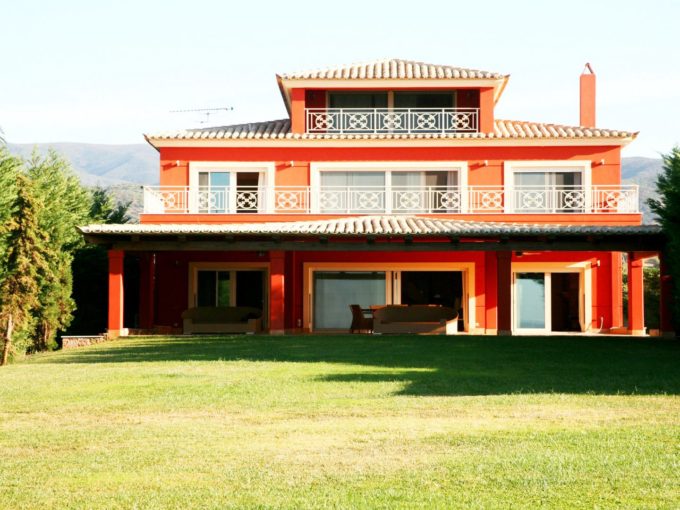 Large modern villa sits on a priviledged sea front plot,…
Large privately owned plot of 969 sq.m Swimming pool with…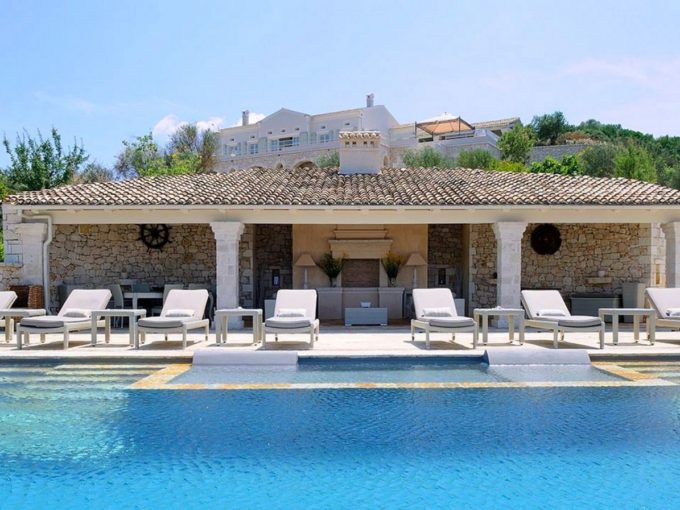 A 7-bedroom villa is located on the outskirts of the…