Villa in Chalkidiki
Location: Greece, Nea Moudania
Description
Villa offers a total of 6 double luxurious rooms, meaning that it has the capacity to accommodate up to 12 people. Built on 600sqm in Nea Moudania, the villa overlooks at the endless blue waters of Toroneus Gulf.
All rooms have a spectacular view to the beautiful pool as well as to the crystal clear watered sea. Spoil yourself with a relaxed massage and jacuzzi by the side of the pool, where an exterior hot tub is waiting for you! Rejuvenate in the verdant gardens covered with palm and olive trees while the serene environment of our villa and the natural surroundings along with the cool mild air of Halkidiki will offer you the calmest holiday possible.
The amenities of the villa will definitely amaze you! Our villa is fully-equipped, ready to serve all the needs and desires, so you can have the best vacation ever.
All rooms are featured with modern and minimalist design, fully-equipped, including a king-size waterbed, a double sink spa as well as a lovely balcony or terrace with sea view. Each room is very spacious, capable to host a single couple.
There is also a capacious kitchen, equipped with the latest electrical appliances as well as an exterior covered barbecue with outdoor kitchen. You can relax with your company pleasuring a delicious meal at the sun lounges or at the large dining table.
The villa provides also its guests with a private 25 meter long infinity pool and a baby pool, where you can calm down and enjoy quality time with your family or with your friends.
In our resort you will also find a basketball and a volleyball court where you can keep fit during your vacations.
Location
Villa is located in Halkidiki. Halkidiki is the most popular tourist destination in northern Greece. It is a peninsula divided into three smaller parts, known as the three legs of Halkidiki. The first leg and most popular one is Kassandra with plenty tourist resorts and organized beaches. The second peninsula is Sithonia, with less organized resorts and more secluded coves. The third peninsula, Mount Athos, is a close monastic community where entrance is allowed only to men and after special permission. Very interesting is a boat trip from Ouranoupolis that makes the tour of Mount Athos, a region with lovely beaches and impressive Byzantine monasteries. Halkidiki has among the best developed beach resorts and tourist facilities of Greece and amazing summer nightlife with beach parties, thus attracting young crowds as well.
Halkidiki is easily accessible from Thessaloniki, the second largest Greek city. Due to its large size, tourism in Halkidiki is scattered, creating in this way the development of many beach tourist places. The first peninsula is the busiest, while the second peninsula is less frequented but even more beautiful. The second peninsula is more popular with camping. Days and nights in Chalkidikiare majestic. A drive around will bring you to nice places and historical sites.
Halkidiki is an area of mainland Greece which is most famous for the amazing beach resorts. Due to the large size of the region, these resorts are innumerable and suit all preferences, so you will find both organized busy resorts or totally secluded ones. Most organized beaches in Halkidiki are lined up with hotels and restaurants.
Destinations:
Beach: 50 m
Restaurant: 2 km
Market: 1 km
Airport: 55 km
Port: 3 km
Similar Properties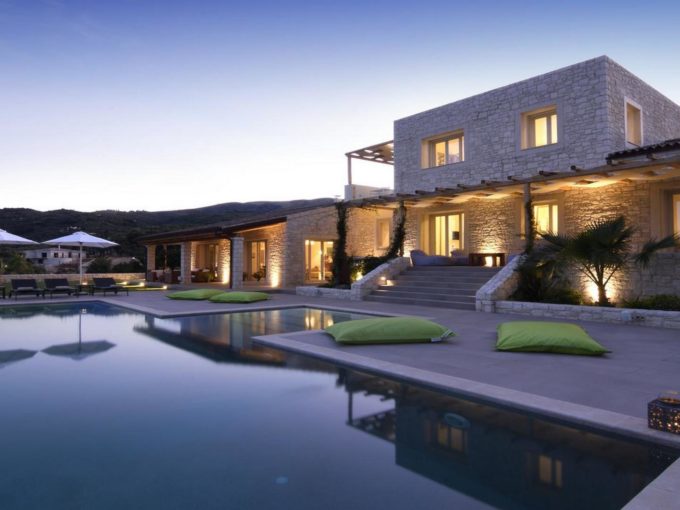 Impeccable villa in Cassiopeia on the island of Corfu! Carefully…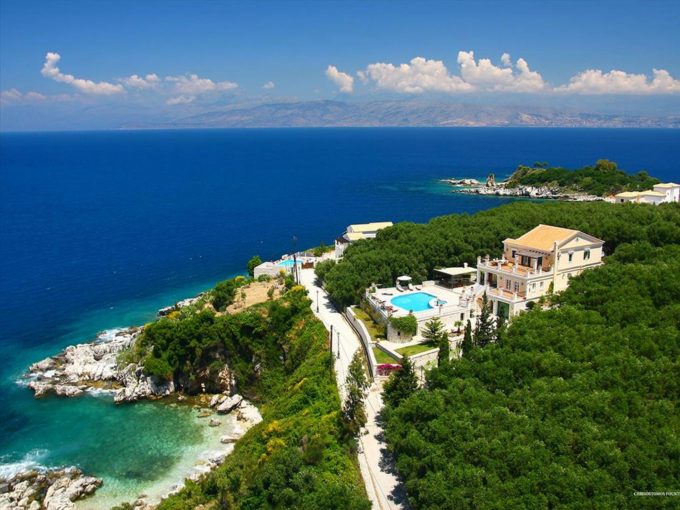 Magnificent villa for sale in the Kassiopi area on the…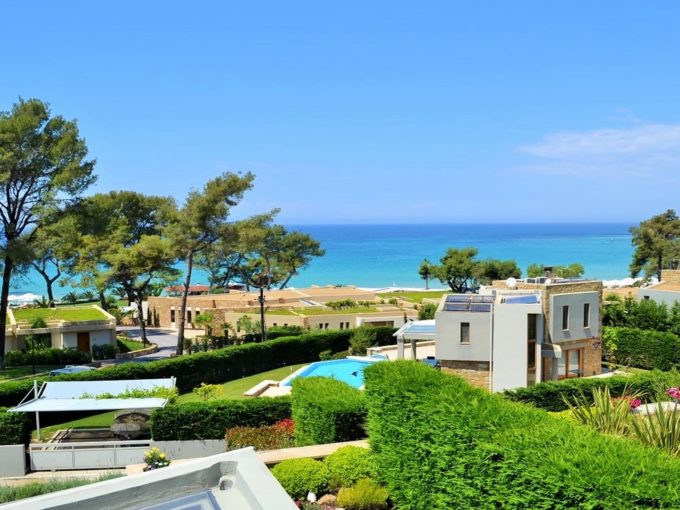 The villa consists of three floors, 4 bedrooms, 2 bathrooms,…