Apartment in Glyfada
Location: Glyfada, Greece
Description
New project in Glyfada
MAIN CONCEPT
The architectural design takes into account both the existing and the future condition of the area. In this direction, a composition of a special and modern architectural language is created with the aim of creating a landmark in the area of Glyfada. Harmony was the target of the architectural design. We were inspired by the sea and the rhythmic harmony of its waves. This intention is evident in the design language we use, in the movement of the plates, as well as in the vertical curves between the floors, which look like waves holding the plates. The thin and curved plates in combination with the organic parapets around the plates are key features of the composition, creating a dynamic approach but at the same time light construction, which works as a sculpture.
PLAN
The building is placed inside the plot, leaving distances from the adjacent plots, thus creating 4 open sides to the building, allowing the sun to enter. The building consists of a basement, ground floor with attic, three floors and a loft. There are 4 apartments in the building. On the ground floor there is an apartment with a loft extending to a part of the basement. Ground floor access is provided by the shared staircase. On the first and second floor there is an apartment on each floor. On the third floor there is an apartment with a loft.
They are accessed from the shared stairwell. The entrance to the main apartment is designed through a single space where there are living areas (kitchen and living room), a corridor that leads to other areas such as WC, master bedroom and two smaller bedrooms with bathroom. On the balconies of the apartments on the first, second and third floor a perimetrical glass cutter is placed with a thin cross section and a jacuzzi. In the uncovered area of the ground floor, planting areas, a swimming pool and 2 additional parking spaces are created.
APARTMENT 1 (Ε= 270 SQM)
APARTMENT 2 (Ε= 128,65 SQM)
APARTMENT 3 (Ε= 138,79 SQM)
Double frontage loft apartment of 138,79 sq.m. it is consisted of 2 bedrooms with storage spaces and 2 bathrooms, 1 master bedroom with 1 bathroom and 1 dressing room, laundry area with a WC, living room and kitchen and 2 large balconies. The apartment has a jacuzzi on the south side.
APARTMENT 4 (Ε= 263,82 SQM)
PARKING AND STORAGE AREAS (Ε= 111,73 SQM)
Energy class – A
Similar Properties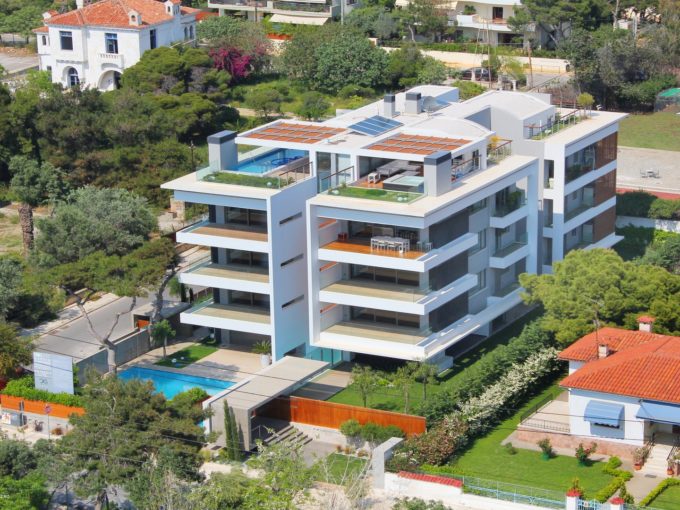 Luxury apartment is located in a modern luxury complex of…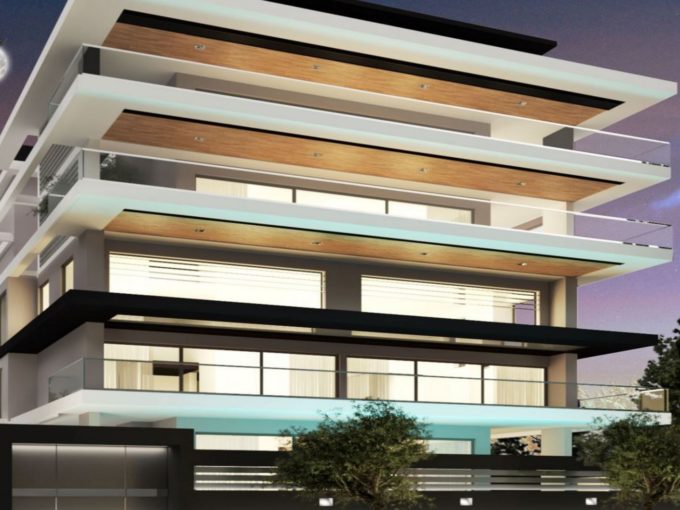 An exquisitely exclusive development of only 5 A+ residences goes…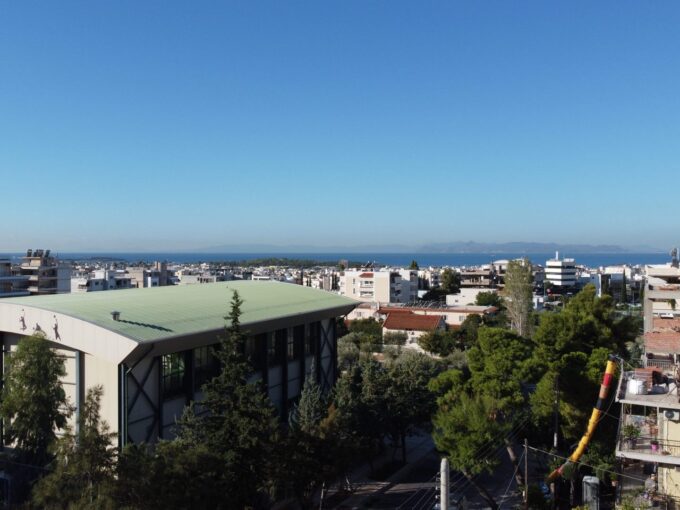 GENERAL CHARACTERISTICS Complete BAUMIT Exterior Thermal Facade system Photovoltaic panels…