Villa on the island Crete
Location: Lasithi, Crete, Greece
Description
Drawing its name from the famous Havgas Gorge and with unparalleled views of the Aegean Sea and the cosmopolitan bay of Elounda, Chavgas is comprised of five 400 sq.m., luxurious, and furnished houses. The living room and terrace of houses overlook an expansive private reflection pool, beyond which you will admire the breathtaking views to Spinalonga Islet and its historic Venetian Castle. The en-suite bedrooms are luxuriously furnished, the living room has deluxe furniture, and the bathroom, dining room, and kitchen are fully equipped. The terrace is spacious and modernly equipped and it can be easily converted into a homely and welcoming outdoor living area. Houses are equipped with the prerequisites for cable TV, smart home for the lights and windows, and a central air-conditioning and heating system. The residences have their own parking space with pergolas and heated swimming pools. All rooms share a large balcony that offers an unobstructed view of the spectacular Cretan landscape. Also the house includes a studio 32 sq.m., where a maid could reside.
THE POOL
All residences are equipped with spectacular pools, elegantly ornamented with mosaic tiles. The residences are provided with a heat pump that can effectively heat the pool, throughout the year.
WATER SUPPLY
The water provided comes from the central water supply network. The electric boiler system for hot water has a capacity of 200lt. You also have the alternative of using water heaters powered by solar energy.
WI-FI – SATELLITE – TV
In our venture to guarantee a uniquely luxurious experience for you, we have equipped all houses with Satellite, Internet, and TV. Thus, we are reassuring that entertainment and information we are unfailingly available to you and your family.
NATURAL MATERIAL
With appreciation and admiration for the local architecture and nature, the opulently decorated houses, are built with natural local stone from Elounda, accumulated during the building excavations and handcrafted by local craftsmen.
HEATING AND COOLING SYSTEMS
We are endeavoring to guarantee your comfort and pleasure, therefore our houses are equipped with fan coil units to offer you air conditioning for summer and a heating system for winter. Our aspiration is to ensure that you and your family dwell in a delightful environment, regardless the outside temperature.
 THE GARDEN
These distinctive houses are surrounded by a superb garden with aromatic herbs and plants, such as oleanders, olive trees and lemon trees, which are perfectly harmonized with the serene and awe-inspiring environment.
ENERGY
We are concerned about you and nature; thus all equipment is entirely environment friendly. We have approached the lighting of the common areas with an ecological manner. Thus, only energy saving LED light bulbs have been used, even for the hidden ceiling lighting.
PARKING
Intending to guarantee your comfort and opulence, we have built a pergola parking that is designed to have capacity for 2-4 cars of any variety. The parking is built close to the entrance of the house, deeming it easily accessible and convenient.
Sea – 3700 m
Airport – 1 hour 10 minutes
Similar Properties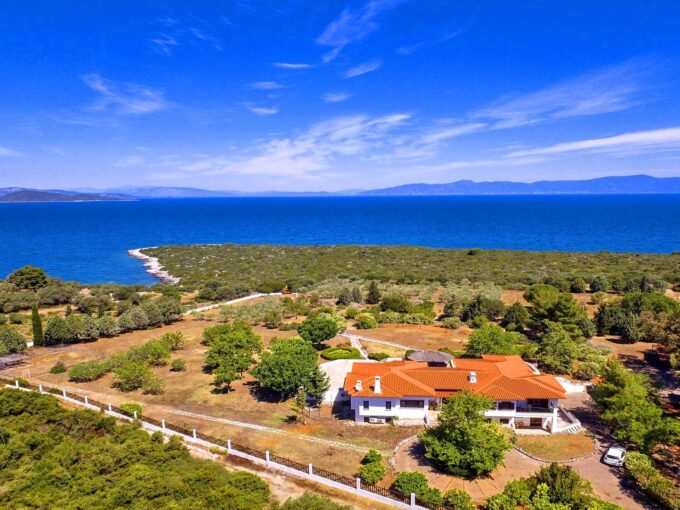 Beautiful fully furnished villa near the sea with an almost…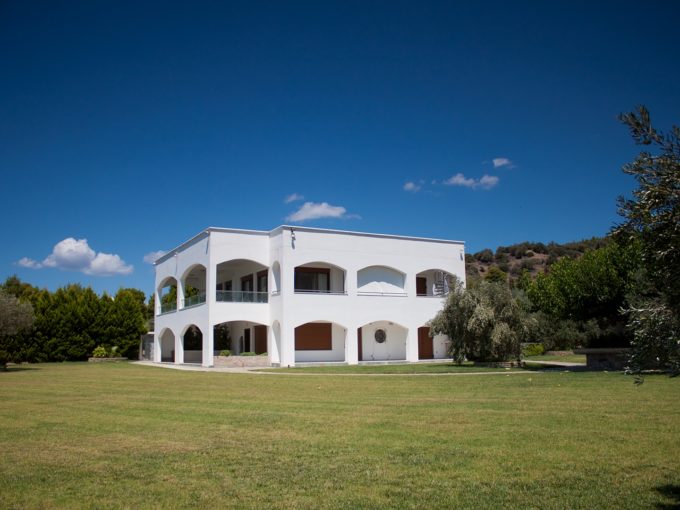 Luxury villa of 400 square meters on a plot of…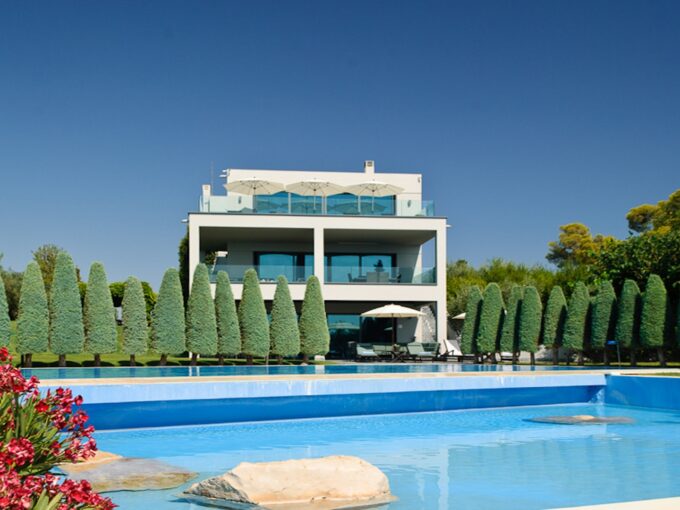 • Modernest open plan villa presented to the highest of…